Imagine being your own boss, having nearly unlimited income potential, and being able to work in your pajamas if you want to. Instead of slaving away in a cubicle all day, you rely on your creative talents – and your rigid work ethic – to build the life of your dreams.
How I Became an Online Freelance Writer
My kids were in full-time daycare, but they only got the scraps of a parent even when I was home. Our daily routine was pure misery. Wake up, dress to the nines with full makeup and hair, get the kids ready, scramble to get to daycare then to work by 8:00.
In the meantime, I began leveraging my online presence (and my scarce free time) to pursue my passion – writing. For a long time, my husband and I worked full-time and built our online business during our spare time.
Fortunately, our hard work eventually paid off. These days, my husband is a full-time blogger who finally makes six figures running our website. I write online content for a living, earning an average of $20,000 – $30,000 per month writing articles, book chapters, and slideshows for a variety of websites and individuals.
I work extremely hard, but my new life puts my old one to shame. Instead of schlepping by with 15 PTO days per year, we now travel around 12 weeks annually. With more money at our disposal, we max out our retirement accounts and invest in real estate.
Why You Should Consider Freelance Writing
Step 1: Take Inventory of Your Current Skills
When a lot of members join LRA they fall into the trap of ignoring all the skills they already have. Instead, they think they need to create an entirely new set of skills and experiences and learn everything there is to know about a topic before they can even consider becoming a freelance writer.
Before I became a freelancer, I worked in mutual funds and hedge funds, doing pricing, accounting, and risk management. In college, I also did an extended three year internship with a financial advisor, so I knew about the market, retirement investment, and asset allocation.

Action step: Make a list of the things you know. Include everything and anything that comes to mind.
Step 2: Choose a Freelance Writing Niche
Pro-Niche
Niching will help you become an expert on one topic and that means you can get super focused on the brands you want to work with and the type of content you write. Also, a lot of brands will only hire freelancers with experience in that industry.
Meh-Niche
I personally think that finding a niche early can help you get focused. Because freelance writing covers such a huge number of jobs, industries, and types of writing, it's really easy for people to get overwhelmed and do nothing.
Then, if and when you want to focus on other areas, you already have experience freelancing and you know how to find clients. That makes switching niches easier, you just repeat the stuff that worked already.
Here are some examples:
Financial services: let's face it, there's money in money, and you can cover a ton of different topics ranging from personal finance to cryptocurrencies
Insurance: here's another one that has money floating around and there are many different areas to get into
Technology: add tech to any niche, and you're going to find lots of opportunities — sleep tech, pet tech (yes this is a thing), hospitality tech, health tech, fintech, insurtech, you name it
Hospitality: This goes beyond travel blogs (though keep those on the list too) hotels, rental cars, apps, tourist boards, airlines, travel insurance, luggage, are all involved here also
Health: There are about a million ways you can dig into health from the medical side, I know quite a few former nurses who make good money freelancing, to fitness, diet, training products, and more
Think outside the box.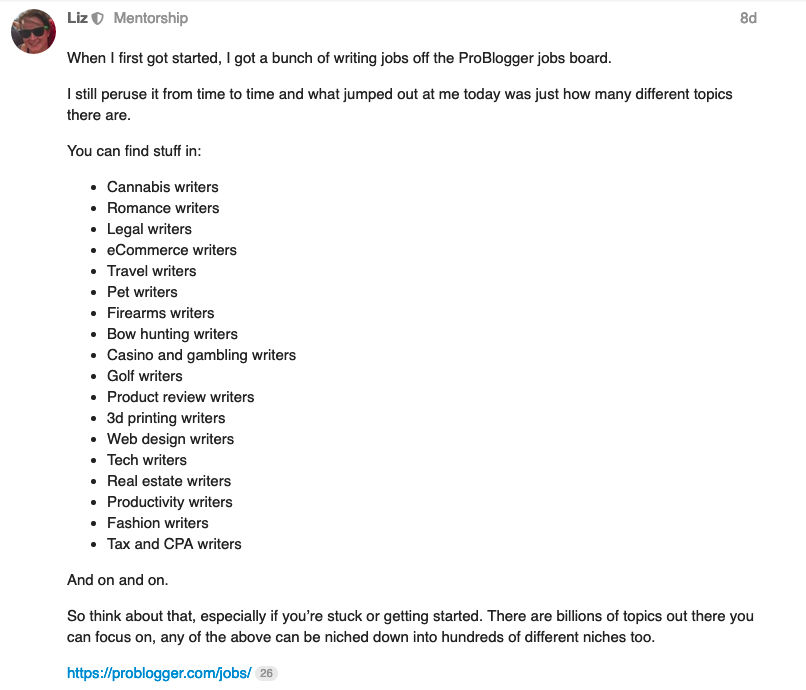 Step 3: Research Your Niche
Action step: Make a big list of places and people in your niche.
How to Get Work as a Freelance Writer
Step 5: Create a Freelance Writer Website
Have 3-5 samples on your site. You need this amount at the minimum, ideally more if you can.
Spend time on your samples. Don't slap something up there that you put zero energy into. This is probably going to be one of the more time-consuming parts of getting started. Here's how to write a blog post.
You need your samples to be in your area of focus. Don't say you are an accounting writer and have 1 sample on Star Wars, 1 sample on your favorite hike, and 1 sample on why you love your iPhone.
If you are niching in a type of writing, for example, long-form blog posts (blogs that are 2000+ words) then all of your samples need to be 2000+ words.
You can always add new samples and remove old ones, especially if you change or switch niches.
You can use the blog feature on your website to write samples.
Action step: Start building your freelance writing website.
Step 6: Sign up for Professional Content Sites
There are some content sites out there that do a lot of the heavy lifting for you. You can sign up to them for free, post your pieces, and if your profile dings the special algorithm, then you get matched with a potential client.
Create a profile and make sure you have keywords about your niche in it. Then post up your samples. Set time in your calendar every month to go in and add more samples or update the descriptions of your posts and profile.
Step 7: Contact Marketing Agencies
You won't get a full fee like you do if you're out on your own. But for a lot of people, the tradeoff is worth it. Working with an agency means you can try out a bunch of different types of work and get some good clients under your belt.
I like to start with local agencies, that gives you a bit of an automatic connection. If you're not new to an area, that's fine; just tweak it and make it work for you. I always like to start an email like this with one sentence that's personal versus copy and pasting the same thing to everyone.
You can use an email just like this one:
It looks something like this:
Step 8: Use Social Media Effectively
Tapping into LinkedIn
Hi X, I was reading the "Company name" blog and came across your name. Would love to connect, I'm a freelance writer and have been working with some finance and insurance brands like Client 1, Client 2, and Client 3. I thought I'd reach out and say hello. Have a great weekend. – Liz [If you have space here add your email or website URL to make it really easy to connect]
I wanted to connect because this person is a good writer on both this blog and a few others I found while I was internet stalking them. And lucky for me, now they are in charge of content for a good company in my niche. So in life, I'd like to connect if it leads to a writing assignment, even better.
Action step: Create a LinkedIn profile and get on Twitter.
The best way to get clients as a freelance writer? Prioritize testimonials
Not being assertive about collecting testimonials was one of the major mistakes I made when I was first starting out as a freelance writer. I wrote for clients but never bothered asking for a testimonial.
My advice to you? Don't make the same mistake — take testimonials seriously. Testimonials matter because prospects want social proof — they want to know what previous clients say about working with you before trusting you themselves.
Testimonials dissolve doubts, sell you more effectively, and supercharge your credibility. So don't be shy about asking for testimonials from clients and adding them to your website. You can also get testimonials from your LinkedIn connections as LinkedIn recommendations on your profile.
Sources:
https://www.goodfinancialcents.com/how-to-become-a-freelance-writer-and-get-paid/
https://www.locationrebel.com/how-to-become-a-freelance-writer/
https://blog.xolo.io/how-to-become-a-successful-freelance-writer